Most organisations will manually import data from JustGiving into Salesforce.
This outdated form of data entry wastes precious time and compromises what you can do with Salesforce due to your data being inherently out of date.
So if you're sick of the tedious process involved to manually import JustGiving data into Salesforce time and time again, don't worry – we've developed a solution which completely automates this for you.
In this mini guide, we'll show you how to connect JustGiving into Salesforce in three easy steps.
Why it's important to get your JustGiving data into Salesforce
Connecting your JustGiving data into Salesforce solves two of the biggest problems that charities who use Salesforce face:
Ensuring Salesforce contains accurate, timely and actionable information
Minimising the ongoing administration effort required to achieve this
Accurate, timely and actionable information
Salesforce runs on data.
A good analogy is that Salesforce without data is like a car without petrol (or without an electric battery in the case of EVs!). And if you are feeding it information in drips and drabs then you will not be able to extract Salesforce's full potential.
Imagine the reporting, marketing, support, forecasting, financial and other capabilities that would be unlocked if JustGiving automatically communicated with Salesforce. It would enrich what you could do in Salesforce, allowing you to approach your fundraising head on with every piece of information at hand to engage with your supporters more effectively.
With manual data imports this is not possible.
Not only is it tedious, repetitive and requires a massive time investment – but you receive endless data points from JustGiving every day which makes keeping up impossible. This leads to Salesforce containing outdated information, and it becomes harder to make business decisions and run your fundraising efficiently.
Fortunately, MoveData can solve this. By connecting to JustGiving APIs the data import process becomes completely automated, and your time is freed up to start actioning your data instead of getting it into Salesforce in the first place.
Minimise ongoing administration effort
It's no secret that working with CSV files is painful.
You need to export, transform, import, and work through the errors to get this information into Salesforce – and you need to do it again and again and again.
As an example, prior to using MoveData PSPA would import JustGiving information into Salesforce at least once per week. Depending on how many entries there were, each CSV import could take around 7.5 hours effort to review and transform before it could even be uploaded into Salesforce. Over the course of a year, this equated to approximately 390 hours to keep Salesforce up to date with JustGiving information!
Generally this is not a good use of anyone's time if this process could be completely automated, as there is plenty more impactful work which could be done instead.
How to integrate JustGiving with Salesforce using MoveData
Follow our three-step guide and you'll be on your way to connecting JustGiving with Salesforce:
Install MoveData
Connect your JustGiving account
Information from JustGiving is automatically imported into Salesforce
Step 1: Install MoveData
The first step is to install MoveData.
You can do this from Salesforce AppExchange, but our recommended path is to schedule a demo to connect with a technical account manager who will manage the entire process for you.
This allows us to understand any custom fields, objects or business processes in your Salesforce Org which the integration might need to accomodate – and include support for these in your integration.
Step 2: Connect your JustGiving account
Once you've installed MoveData, click the Integrations tab in the homepage menu.

Create a new integration by clicking New Integration.

You'll find a list of popular platforms that MoveData connects into Salesforce. Look out for the JustGiving option and select it.
Then add your JustGiving details to connect your JustGiving account into Salesforce.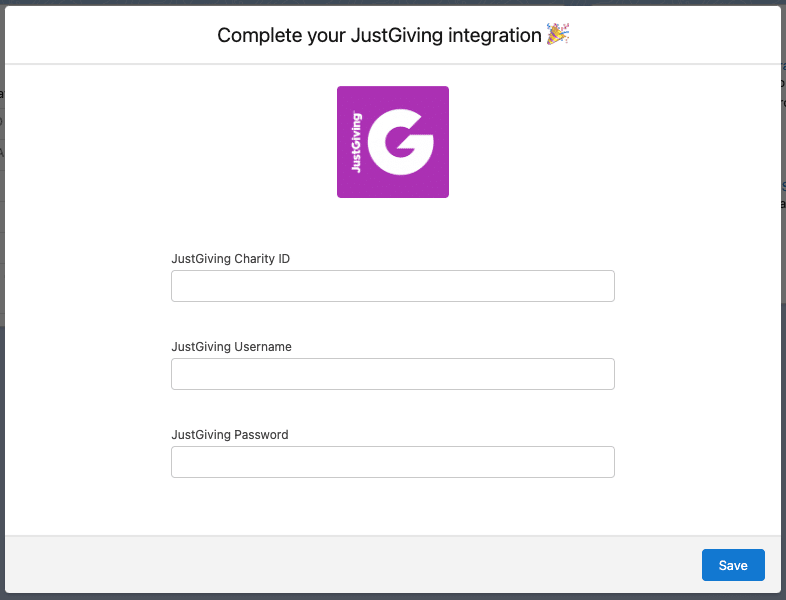 Step 3: Complete!
Now comes the fun part: receiving and utilising your JustGiving data.
Whenever new information is made available in the JustGiving API, MoveData will automatically process this information into Salesforce. Typically this is when donations, payments or gift aid payments are created, or when event, team or fundraising pages are created or updated.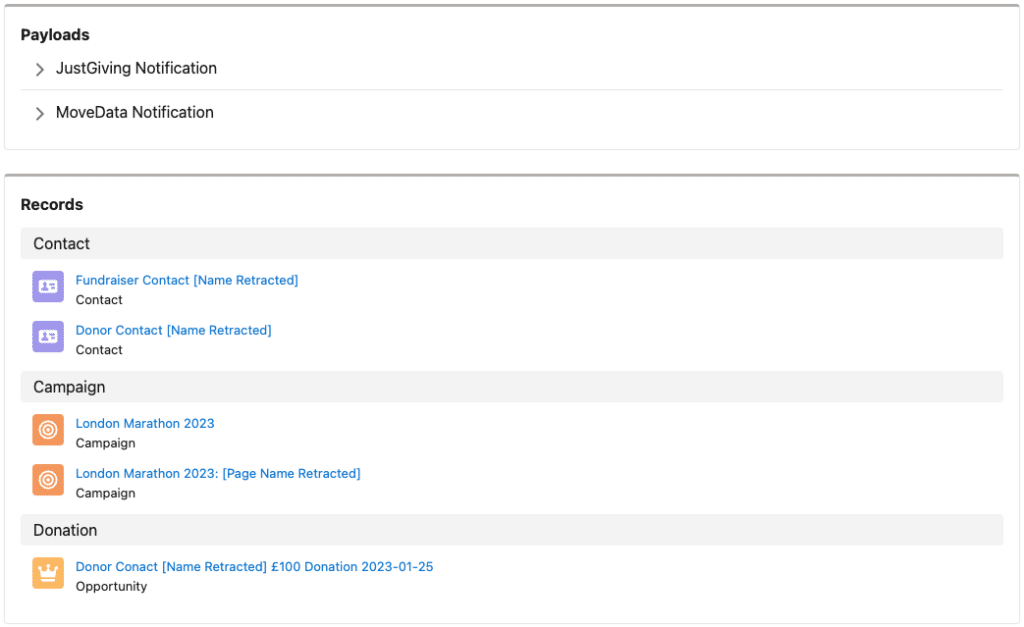 Core records constructed in Salesforce are:
Contacts: represent your fundraisers and donors in JustGiving, and house information like name, email, address etc
Accounts: these are typically household accounts in an NPSP context
Campaigns: represent your events, teams and fundraisers in JustGiving, and house information like fundraising target, fundraising URL, fundraising page status etc
Opportunities: represent your donations in JustGiving, and house information like amount, gift aid amount, donation reference etc
Recurring Donations: represent your recurring donations in JustGiving, and point to child opportunity records as new donations are received in
Support for other use cases (such as Campaign Members, Opportunity Contact Roles (Soft Credits), General Accounting Units etc) is present too – for more information please schedule a demo.
Fine-tuning your JustGiving Integration
If you're using Salesforce Nonprofit Success Pack (NPSP) then chances are you are using the above objects which MoveData inherently supports.
But organisations will typically customise Salesforce to include custom fields, objects or business logic which your integration can easily be extended to support.
This is achieved using Salesforce Flows, a tool which makes it easy to automate complex business practices.
If you're a Salesforce Administrator you can review our knowledge base articles on how to customise your integration using Salesforce Flows.
For everyone else, we recommend connecting with our team and we can quickly customise your integration for you.
Connect JustGiving and Salesforce with MoveData
If you're thinking about connecting JustGiving with Salesforce, then the best place to start is to schedule a demo. We hope to see you soon!