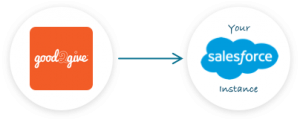 Good2Give is a not-for-profit that makes it easy for businesses and donors to give. Use MoveData to connect Good2Give and push donation and matched giving information into Salesforce (including Nonprofit Success Pack / NPSP).
Frequency
Good2Give does not have API capabilities to make donation data available automatically. Instead, donation file exports are available to download via the Good2Give Admin. The structure of these files are supported, and can be uploaded into Salesforce using the MoveData Salesforce App. As soon as Good2Give donation file exports are received, data is automatically pushed into Salesforce within seconds.
Supported Triggers
Donation
When a donation is created, updated or refunded in Good2Give, MoveData will receive the notification and push into Salesforce automatically. This results in Opportunity, Contact and Account structures being created and related to both each-other and the Campaign through which the donation occurred. Includes support for Matched Giving. The information pushed into Salesforce is comprehensive, and if you would like a demo or require a complete list of fields and relationships created please contact us.
Supported Actions
Create Campaign
When a Donation is received from Good2Give, a Campaign will be pushed into Salesforce automatically. Campaigns are created for Employers and are used to roll up Opportunity information related to that Employer. Campaign Members are also supported.
Create Contact
When a Donation is received from Good2Give, a Contact will be pushed into Salesforce automatically. Your Salesforce Duplicate Management rules are respected at all times. Soft Crediting and Contact Roles are also supported.
Create Account
When a Donation is received from Good2Give, an Account will be pushed into Salesforce automatically. If the Account is a Company then a Company Account will be created – if not, a Household Account will be created as per Nonprofit Success Pack rules.
Create Opportunity
When a Donation is received from Good2Give, an Opportunity will be pushed into Salesforce automatically. Includes support for Matched Giving and differentiation between Employer and Employee donations.
How it Works
Overview
When a fundraiser signs up or a supporter makes a donation, an event is pushed real-time into Salesforce by MoveData. These map to Nonprofit Success Pack and can be easily extended to any unique Salesforce customisations you have already made or might make in the future. This enables improved data accuracy and a large reduction of data entry – while also setting the foundation for meaningful marketing interactions to occur as you look to leverage new real time data capabilities. And because MoveData is built specifically for Nonprofits who use Salesforce, the integration you receive is deeper than anything you could create using Zapier, more configurable than anything provided out of the box by the source platform, and cheaper to implement than a traditional bespoke integration delivered through a consultant. A good example of how this has been enabled and real time marketing journeys delivered through Salesforce Pardot is available in our Cure Cancer Australia case study.
Binding to your unique Salesforce configuration
Your Salesforce instance may already be configured in a particular way which deviates lightly or heavily from standard Nonprofit Success Pack. MoveData is built with this in mind, and it is easy to configure MoveData so that when notifications are received from Good2Give and pushed into Salesforce – your existing structures and expected data conventions are adhered to. This is achieved by installing a detailed suite of configurable actions exposed via Lightning Flows which are then used to tailor the integration to your specific needs.
Intelligent Duplicate Management
MoveData stores the unique ID from Good2Give when processing notifications. This means when donations are updated in Good2Give, MoveData is able to match the unique ID and upsert information into Salesforce rather than create a new record. If a match on unique ID is not found, MoveData runs your Salesforce deduplication rules before a new record is created in Salesforce. Because of this approach, MoveData never creates duplicate records.
Affordability and Implementation Time
MoveData takes notifications from various platforms and pushes into Salesforce via a standardised MoveData fundraising structure. One of the strengths of this approach is that you can connect real time data from multiple platforms into Salesforce without having to accomodate the nuances of each source platform. This 'commoditisation' of fundraising integrations allows us to deliver you a large set of data sources and features at a considerably lower cost than the traditional integration route – coupled with fast implementation time. Integration to a single platform costs $249 (charged as a monthly subscription) or $399 for integration to unlimited supported platforms. These can be turned on by MoveData in under 24 hours, and you can then connect platforms via oAuth or API key so that data pushes into Salesforce immediately.
Use the Good2Give → Salesforce Integration
Flexible plans to suit your business
GOOD2GIVE → SALESFORCE INTEGRATION
$249
Monthly subscription
Good2Give → Salesforce Integration
Unlimited monthly tasks
Smart duplicate rules
Record mapping engine
MoveData Salesforce App
Ticketed support
CONTACT US