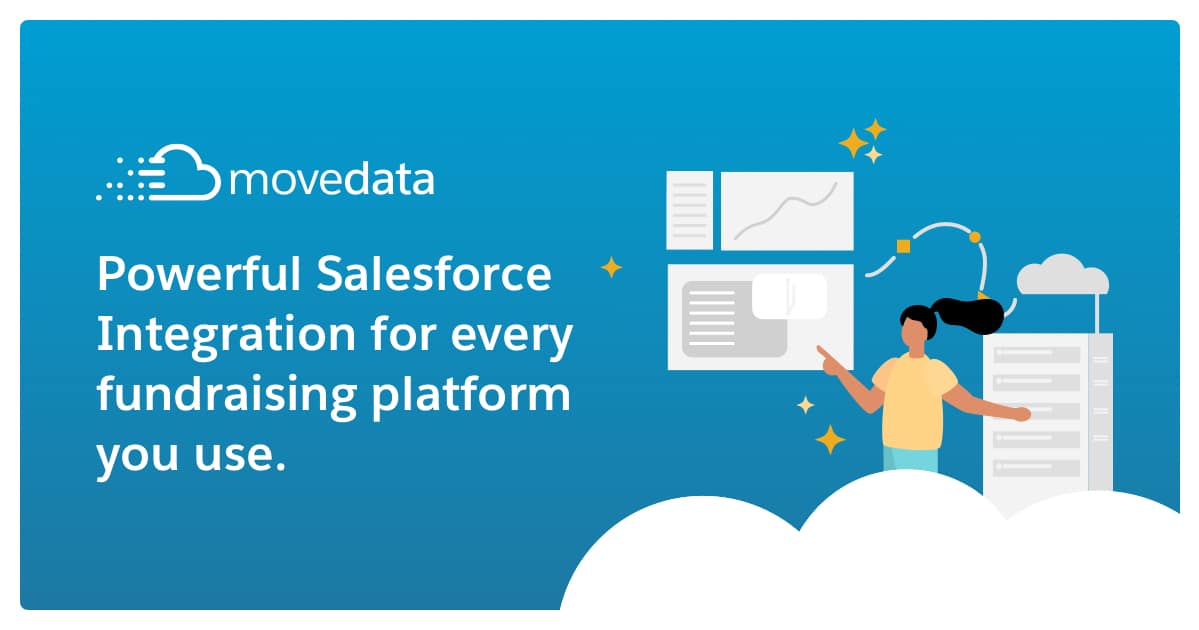 About
MoveData is a fast, easy and affordable way for Nonprofits to push real time data into Salesforce. Founded in 2019 and headquartered in Sydney with additional offices in Melbourne, MoveData processes millions of data notifications every month and is 100% Australian-owned. It integrates with a large array of fundraising platforms including EveryDay Hero, Raisely, PayPal, Good2Give, Funraisin', Grassrootz and more. On top of our already supported integrations we look to incorporate new platforms into our offering every month.
How it Works
When a fundraiser signs up or a supporter makes a donation, an event is pushed real-time into Salesforce by MoveData. This enables a large reduction of data entry (and improved data accuracy) – while also setting the foundation for real time interactions to occur using marketing automation, reporting and other tools connected into the real time data. A good example of how this has been enabled and real time marketing journeys delivered through Salesforce Pardot is available in our Cure Cancer Australia case study.
One of the core strengths of MoveData is that we take notifications from different platforms and push into Salesforce using a standardised MoveData fundraising structure. This allows customers to install MoveData and automatically connect real time information from multiple platforms into Salesforce with just a few clicks. This 'commoditisation' of integrations means that via MoveData you can receive a large set of data sources at a considerably lower cost than traditional integrations – coupled with a rapid implementation time. And because MoveData is a product built specifically for Nonprofits who use Salesforce, the integration you receive is deeper than anything you could create using Zapier, more configurable than anything provided out of the box by a platform, and cheaper to implement than a traditional bespoke integration delivered by a consultant.
Live integration can be delivered same day, and the cost for integration to a single platform is $249 (charged as a monthly subscription) or $399 for integration to unlimited platforms.
Our Story
Founders James Gilray and James Kent are technology professionals with a deep passion for serving the social sector. When running a software agency and implementing Salesforce solutions for Nonprofits a consistent trend started to emerge.
"Out of choice, legacy or force – Nonprofits were using multiple platforms to facilitate their fundraising. We've had examples where PayPal or Stripe might have been used on their website, Everyday Hero in mass participation events, Good2Give for workplace giving, maybe they would have a feature campaign on Raisely – and there was this wealth of information which was being manually entered weeks after the activity occurred, or it was not making its way into Salesforce at all. This is not a good approach to CRM and there is a massive opportunity cost associated with this" – James Gilray, Customer Success Director.
The two set out to solve this problem and created a real time integration solution which would sit between Salesforce and various industry platforms. This would be architected in such a way that data would flow into Salesforce automatically and would produce a consistent result in Salesforce no matter the source of the data – and would accommodate any existing customisations, third party add-ons and configuration changes made in the target Salesforce account.
James Kent, Technical Director says "This isn't the easiest thing to do. Each platform surfaces their data in different ways and through varied structures. The data needs to be transformed, standardised and treated in order to make its way into Salesforce in an accurate, predictable and repeatable manner that consistently works for any platform the charity might use. Further, it needs to be highly configurable to accommodate customisations already made, or made in the future as the customer's Salesforce grows and evolves over time".
Through this process of continually delivering real time Salesforce integration to Nonprofits MoveData was born. We've seen first hand how it provides clients with better access to their information – unlocking new sales, marketing and business opportunities, freeing up human resources so they can be assigned to more valuable tasks, and uplifting fundraising volumes when coupled with smart marketing automation. Through MoveData, we believe we can democratise technology capabilities which were previously only available to enterprise organisations with large teams and deep budgets.
If you think MoveData could help you, or if you would like to ask us anything at all, please get in touch!